Welcome to Extreme Expeditions Northwest, LLC
Your gateway to Adventure!
The 3rd Annual Spokane Valley Washington Sasquatch Roundup. (Event Canceled Due to Covid -19 Restrictions)
Would you like to know more about the legendary and mysterious creature known as Sasquatch- aka Bigfoot?   If so, you certainly won't want to miss out on the 3rd Annual Spokane Valley Washington Sasquatch Roundup this coming November 7th, 2020 at the Spokane Valley Event Center located at 10514 E. Sprague Avenue, Spokane Valley, WA. 99206.
The Roundup is a one-day event in which Sasquatch Researchers and Bigfoot Enthusiasts from around the country will gather to share their latest research, evidence and sightings of the elusive Bigfoot.
We have some of the country's most experienced Sasquatch Researchers and Bigfoot Enthusiasts sharing their latest research, evidence and sightings of the elusive Bigfoot.
This exciting event is a tremendous opportunity for you to learn more about the legendary creature and meet a number of local Sasquatch Researchers and Bigfoot Enthusiasts as well!
The event will commence at 9:00 a.m. on Saturday November 7th, 2020 with a day of Speakers, Presentations and Q & A from 9:00 a.m. to 3:00 p.m. followed by a Town Hall Forum from 3:00 p.m. to 5:00 p.m.  Social Hour from 6:00 p.m. to 7:00 p.m. and then an Exclusive VIP Dinner and a Show from 7:00 p.m. to 8:30 p.m.
Event Schedule
GENERAL ADMISSION AND SPEAKER PRESENTATIONS
Saturday November 7th, 2020
General Admission Tickets: $20.00 in advance or $25.00 at the door.  The General Admission ticket allows access to all of Saturdays Speakers and Presentations. Hourly prize drawings.
Concessions Open from 9am to 5pm- Beverages, Wrapped Sandwiches, Hot Dogs, Pretzels & Snack Items.
Check in- 8:00 am to 9:00 am.
A brief welcoming by Extreme Expeditions Northwest, LLC,.- 9:00 am to 9:05 am.
Featured Guest & Speaker from the Colville Indian -9:05 am to 10:50 am.
Featured Speaker & Presenter: Larry "Beans" Baxter of the Kenai Alaska Bigfoot Research Group- 10:00 am to 10:45 am.
Featured Speaker & Presenter: Amy Bue, Co-founder of Project Zoo Book  from Ohio.- 11:00 pm to 11:45 pm.
Lunch Break- 12:00 am to 1 pm.
Featured Speaker & Presenter: Dr. J. Robert Alley, Renowned Bigfoot Researcher and Author. - 1:00 pm to 1:45 pm.
Featured Speaker & Presenter: TBA- 2:00 pm to 2:45 pm.
Town Hall Forum. Have you had an encounter with Bigfoot? Time to share your story- 3:00 pm to 5:00 pm.
Social Hour and Open time for visiting Vendor tables- 5:00 pm to 6:00 pm.
End of General Session.
VIP DINNER AND A SHOW  
Saturday November 7th, 2020
Tickets $65.00- Advance Purchase Required. (This is an exclusive event which is limited to a maximum of 50 Persons. The VIP Pass entitles you to Dinner and a Show and also allows you access to Saturday's General Session of Speakers and Presentations at no additional cost). *A No Host Bar will be available.
Welcome and Social Hour- 6:00 p.m. to 7:00 p.m.
Dinner and Show . - 7:00 p.m. - 8:30 p.m.
Social time and photo opportunities with VIPs and featured Speakers. - 8:30 p.m. to 9:00 p.m.
VIP Dinner Menu
Plated and Served Dinner
Signature Mixed Green Salad- Mixed green salad with apples, cranberries, candied walnuts and feta cheese, tossed.  In an apple vinaigrette & topped with balsamic glaze.
Entrée- Stuffed Chicken.  Chicken breast stuffed with feta & spinach and topped with garlic chardonnay cream sauce.  Fire roasted seasoned vegetables, creamy garlic mashed potatoes, Fresh rolls  & butter.
Desert- New York Cheesecake topped with raspberry glaze, whipped cream and fresh mint.
Beverage Service includes- Freshly brewed coffee (regular and decaf) served tableside along with a No-Host Bar.
Please note: You can use your paypal account for a quick, easy and secure checkout OR you can use your major credit card to complete the purchase of your event tickets! If you prefer to pay by check, please send to Extreme Expeditions Northwest, LLC 9116 E. Sprague Avenue #285, Spokane Valley, Washington 99206.
Please look at the description of each ticket to be sure you choose the ticket that's best for you. Please print your receipt to bring with you to the conference. All Tickets are limited. All ticket sales are final.
Terms & Conditions
By purchasing a ticket to the event you accept the terms and conditions below for you and anyone in your group.
Non-refundable tickets
All tickets are non-refundable unless the event is cancelled. All sales final. If unable to attend, tickets are transferable with prior notification to conference organizer. Presenters and presentation topics are subject to change depending on individual schedules and unforeseen conflicts.
Event Cancellation
In the unlikely event of cancellation of the event, the maximum liability shall be limited to full refund of conference registration fee paid at the time of booking, with no additional liability whatsoever to the conference organizers and presenters.
Indemnification
The conference organizers and presenters accepts no responsibility for loss or damage to personal property. Purchaser shall indemnify the Extreme Expeditions Northwest, LLC The City of Spokane Valley Washington, and any participating hosts, speakers, or any directly invited participant appearing at the event from and against all liability in respect of any costs, claims, damages, demands, penalties, actions, proceedings, suits, losses or expenses in respect of any and all claims, losses, costs, damages of any nature whatsoever, including but not limited to claims arising out of the injury to or the death of any person, or damage to any property arising from my participation in the activity.
Featured Speakers
Dr. J. Robert Alley has researched Sasquatch for more than 40 years. Working with leading Bigfoot investigators, Alley has focused on forensic evidence, eyewitness reports, and historical Native lore. As a field investigator, the Alaska resident has examined reports from Canada, the Pacific Northwest, and Florida. He also has analyzed Washington state police reports of Sasquatch sightings.
Dr. Alley is a retired professor of Anatomy and Physiology at University of Alaska Southeast-Ketchikan. He holds degrees in anthropology and physical therapy from University of Manitoba, and Doctor of Chiropractic Medicine from Canadian Memorial Chiropractic College.
Author of "Raincoast Sasquatch" which is an excellent and enjoyable introduction that brings readers up-to-speed on the Pacific rainforest Sasquatch with rich background, sketches, first-hand reports, and Native beliefs. Dr. Alley presents his investigations with an expert's perception and a page-turning style that will engage even skeptics.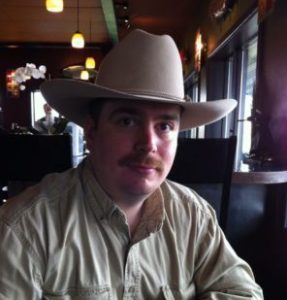 Larry "Beans" Baxter Kenai -Bigfoot Research Group. Born and raised in Kentucy, Larry "Beans" Baxter has had a lifelong interest in Bigfoot and all things unexplained. He's Explored many hotspots around the country including Salt Fork State Park in Ohio, Fouke, Arkansas, Willow Creek, California, Point Pleasant, West Virginia and Port Chatham, Alaska. Working as a law enforcement officer for the past 13 years in Alaska, Beans has amassed a variety of training in disciplines such as homicide investigation, evidence collection, crime scene analysis and interview and interrogation. Beans brings these skills into the field with him while searching for the legendary Alaskan "Hairy Man".
Beans was also a Member of both the 2018 & 2019 Port Chatham Alaska Bigfoot Expedition Teams and made his documentary film debut in the recently released film "In Search of the Port Chatham Hairy man."
We're very pleased to have him for this event!
Amy Bue—Co-founder of Project Zoobook and member of the Olympic Project Bigfoot Research Team. Head of Amy's Bucket List Expeditions (ABLE). Former investigator for the Bigfoot Field Researchers Organization.
A reading teacher, writer, and editor from Ohio, Amy Bue became interested in the search for Bigfoot after a possible sighting in Ohio's Mahoning County in 2012. While her main research area is in Pennsylvania's Allegheny National Forest and Ohio's Columbiana County, Amy has traveled to New York State, Kentucky, Oregon, Washington State, West Virginia, and all over Ohio following up leads.
Recently, much of Amy's efforts have been put into her Project Zoobook, a group she co-founded comprised of primatologists, zoologists, anthropologists, and other scientists working alongside Bigfoot researchers from across the country. She was given the International Bigfoot Conference's 2018 Dedicated Researcher Award for her work with this group.
Amy is an active speaker, and has spoken for events and organizations such as Oregon's Beachfoot, Ohio's Creature Weekend, several Outdoor Hunting and Fishing Conventions, Ohio's State Parks' system, and for the Ohio Division of Wildlife and its Audubon Society. Creekfoot, a well-loved biannual Bigfooting event in Ohio, was created by Amy and her research partner, Tina Sams. This fall, Amy appeared at such venues as Horror Hound Weekend's Fact or Fiction Fest in Indianapolis, and at the 2019 Spokane Valley Sasquatch Roundup in Washington State. While in Washington, she participated in the filming of a documentary for Extreme Expeditions Northwest, which will be released later in the year. At the beginning of October, she headed up a group of women researchers on an expedition in South Carolina. In November, she spoke alongside the Olympic Project at Washington's Sasquatch Summit and was featured in the December issue of Squatch GQ magazine.
As a writer herself, Amy's articles on the topic have been published in California's Bigfoot Times and in newsletters as far away as Norway and Australia. She is currently writing a book about Ohio's Tom Page, one of Roger Patterson's financial backers and a partner in his adventures. She also writes a Facebook blog under her ABLE: Amy's Bucket List Expeditions page.
In between giving time to those efforts, Amy completed her certification classes through the Ohio State University to become an Ohio Certified Volunteer Naturalist. She has recently started studying with the Midwest Native Skills Institute, and she plans on using her new survival skills in her continued search for proof of Bigfoot's existence.
We are very happy to have Amy returning as a Featured Speaker at this years Roundup!
Watch "In Search of the Port Chatham Hairy Man" Today!
This Feature Length Documentary Film takes you along on an adventure to one of the most mysterious places on earth... The abandoned coastal town of Port Chatham, Alaska.
In September of 2018, Extreme Expeditions Northwest, LLC led the first ever Bigfoot Research Team into Port Chatham Alaska in an attempt to obtain definitive proof of the existence of the Legendary Alaskan Bigfoot known as the "Hairy Man".  The film is also now available on demand at Amazon at https://www.amazon.com/gp/video/detail/B07RWP2C88/ref=atv_mv_hom_4_c_j8OFWx_brws_12_8.
Contact information
Extreme Expeditions Northwest, LLC 9116 E. Sprague Avenue, #285 Spokane Valley, Washington 99206 Phone:  509-217-1912 Email:  info@exnorthwest.com